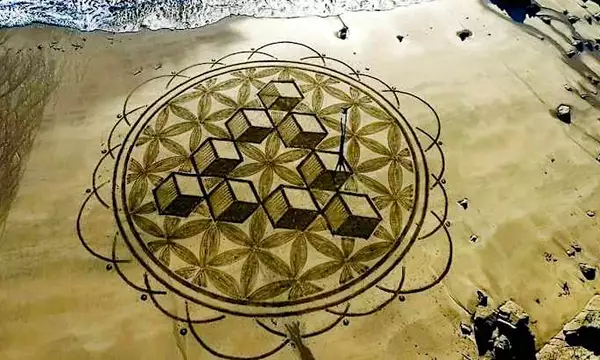 (CNN) — If you've been frequenting the sandy beaches along the rugged, Welsh Pembrokeshire Coast in Britain, you might have noticed some mysterious shapes appearing in the sand.
These intricate murals are beach-based works of art created by local sand muralist 
Marc Treanor.
Inspired by crop circles, the enigmatic formations that occasionally appear in corn and wheat fields, Treanor forges stunningly intricate patterns and pictures by raking wet sand.
When he's done, Treanor watches as his hard work is consumed by the crashing waves, but he says that's all part of the experience.
"It's completely part of it, it's totally integral to the work and the fact it is impermanent and it is temporary," Treanor tells 
CNN Travel.
That said, he usually has chance to capture his creations on camera for posterity.
READ MORE
More from Travel
---
An image of the plan for Daxing Airport.   Beijing, China (CNN) — China is poised to overtake the United States as the world's …
As in other parts of the world, running has become a hugely popular way to keep fit in Seoul, not to …
Atacama Desert, Chile (CNN) — It's dry, barren and sparse. The otherworldly landscapes of northern Chile's Atacama Desert could easily be …
Editor Picks
---